A four-piece band made up of musicians from Ireland and San Francisco.
Celtic Scandal is Managed by Ben Hunter who is also the bands lead singer/bassist. Ben is from Ireland and has been working in bay area bars and hotels for over ten years. He has a broad repertoire that ranges from Irish Ballads to Celtic Rock and, of course, good old Irish humor. This band has played at 50+ Weddings and performs at dinner events, even fund raisers, such as The Irish Immigration and Pastoral Center Funds, The Ireland-American Fund, and even Napa's Steltzner Vineyard. Celtic Scandal is also very much involved with promoting Irish Dancing and will keep you entertained all night long!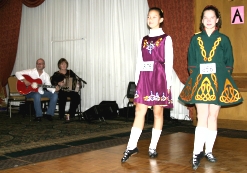 Celtic Scandal is available for weddings, parties, functions, and dances.
For bookings contact Ben Hunter at 415.806.3860, 415.661.3844 or via e-mail ben@ celticscandal.com.